(last updated August 30, 2018)
Referendum Date and Ballot Questions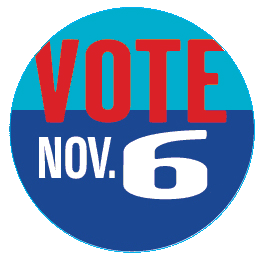 Ballot Question 1: "Shall the Big Foot Union High School District, Walworth County, WI be authorized to issues pursuant to Chapter 67 of the Wisconsin Statues, general obligation bonds in the an amount not to exceed $7,800,000 for the public purpose of paying the cost of construction and equipping on an outdoor athletic facility on district owned land?"
Ballot Question 2: "Shall the Big Foot Union High School District, Walworth County, WI be authorized to exceed the revenue limit specified in Section 121.91, Wisconsin Statutes, by $350,000 per year beginning with the 2019-2020 school year and ending with the 2021-2022 school year, for non-recurring purposes consisting of expenses of employing a school resource officer, technology improvements, capital maintenance improvements, including roof repair, and site and parking lot improvements."
Absentee Voting Information
VOTING BY ABSENTEE BALLOT
Any qualified elector who is unable or unwilling to appear at the polling place on Election Day may request to vote an absentee ballot. A qualified elector is any U.S. citizen, who will be 18 years of age or older on Election Day, who has resided in the ward or municipality where he or she wishes to vote for at least 28 consecutive days before the election. The elector must also be registered in order to receive an absentee ballot.

TO OBTAIN AN ABSENTEE BALLOT YOU MUST MAKE A REQUEST IN WRITING.
Contact your municipal clerk and request that an application for an absentee ballot be sent to you for the election. You may also request an absentee ballot by letter. Your written request must list your voting address within the municipality where you wish to vote, the address where the absentee ballot should be sent, if different, and your signature. Special absentee voting application provisions apply to electors who are indefinitely confined to home or a care facility, in the military, hospitalized, or serving as a sequestered juror. If this applies to you, contact the municipal clerk. You can also personally go to the clerk's office or other specified location, complete a written application, and vote an absentee ballot during the hours specified for casting an absentee ballot.

Clerk Office Contact Information

Delavan, Town
Dixie Bernsteen, Clerk
5621 Town Hall Road
Delavan, WI 53115
Phone: 262-728-3471
Fax: 262-728-3473
clerk@townofdelavan.com

Fontana, Village
Theresa Loomer, Clerk
175 Valley View Drive
PO Box 200
Fontana, WI 53125
Phone: 262-275-6137
Fax: 262-275-8088
theresa@villageoffontana.com

Linn, Town
Sue Polyock, Clerk 
W3728 Franklin Walsh Street
PO Box 130
Zenda, WI  53195-0130
Phone: 262-275-6300
Fax: 262-275-8261
linnclerk@charter.net

Sharon, Town
Karen Teliszczak, Clerk 
N1097 Bollinger Road
Sharon, WI 53585-9704
Phone:262-736-4608
clerk@townofsharonwi.com

Sharon, Village
David Thurnau, Clerk
125 Plain Street
PO Box 379
Sharon, WI 53585-0379
Phone: 262-736-4888
Fax: 262-736-4889
clerk@villageoffontana.com

Walworth, Town
Marie Baker, Clerk
W6741 Brick Church Rd.
PO Box 386
Walworth, WI  53184-0386
Phone: 262-275-9800
Fax: 262-275-9805
clerk@townofwalworth.com

Walworth, Village
Sabrina Waswo, Clerk
227 N Main St
Walworth, WI 53184
Phone: 262-275-2127
Fax: 262-275-9881
clerk@villageofwalworth.us



 
 
Request an Absentee Ballot Online | Downloadable Form
Solicitud de papeleta de voto ausente de Wisconsin


Note: Absentee Ballots are not yet ready for this election. Ballots are typically available 47 days before an election with federal contests and 21 days before state and local contests.